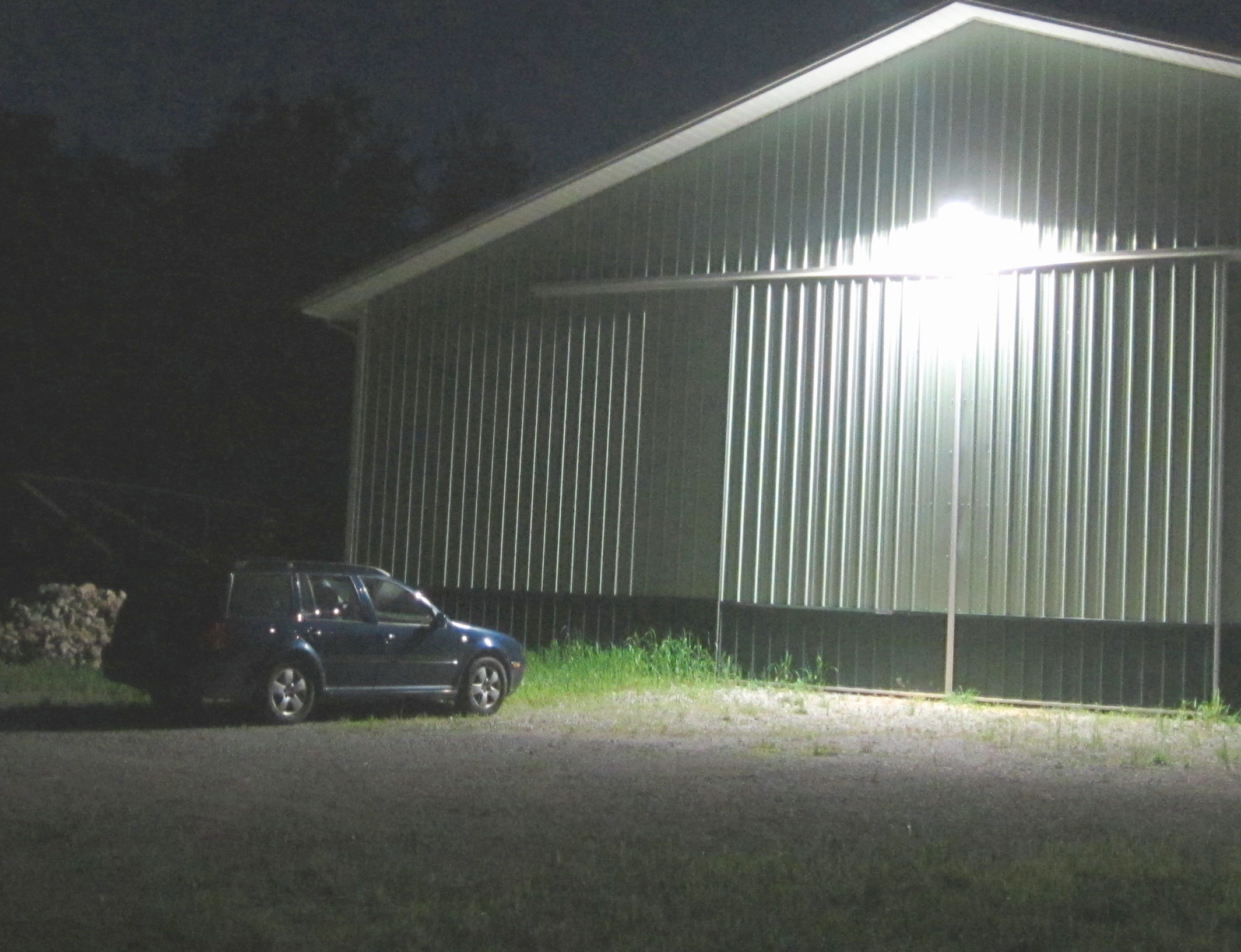 Designed for continuous operation, the DCLP Solar Power Station is an effective alternative to Grid Power provide 24 volt DC low-voltage lighting and power for an off-grid building.
Factory Built cables and connectors make Plug&Play Installation easy, no Electrician wiring is required.  The entire system can be re-located as needs change if necessary.  Additional loads such as Pumps, Fans, DC refrigerators, or Freezers can also be powered.

Applications Include

Farm Buildings & Driveways

Storage & Equipment Buildings

Security Lighting & Fence/Perimeter Lighting

Parking Lot Area Lighting

Access road streetlights

Sign Lighting
OUTDOOR 24V DC LED Fixtures
Outdoor LED fixtures are controlled by the Power Station to turn on at dusk and off at dawn.
• Full Cutoff Wall Packs 2200 Lumens
• Side Throw Wall Packs 2000 Lumens
• Cobra Head Street Lights
• Shoebox Area Lights
INDOOR 24V DC LED Fixtures
LED Low Bay fixtures provide interior lighting for barns, workshops and general applications.
• DC Low-Bay Strip 3000 or 6000 Lumens
• DC T8 Tube Lights 1200 to 1800 Lumens
WattWorks Off-Grid POWER STATION
The WattWorks Power Station contains controllers for Solar PV, Batteries, and Lighting & other Loads MPPT solar charge controllers protect the batteries. Circuit Breakers and Disconnects for Solar PV circuits, the Battery Bank and DC Loads are designed to comply with NEC code requirements including solar GFI and Lightning Arresters. DC lighting circuits are controlled by a Low Voltage Disconnect (LVD) to protect the battery bank. Outdoor circuits are also controlled for night lighting by the solar cycles. Plug-and Play installation is easy with the Connectors & Cables provided for DC lighting fixtures, Solar PV panels, and the Battery Bank. The solar panels plug in to MC4 connectors and the DC LED lights plug in to XLR and waterproof Neutrik connectors.
BATTERY BANK ENCLOSURE
The battery enclosure protects the AGM sealed lead acid Battery Bank They are maintenance free, very reliable and can last for 10 years with proper care. NEC Compliant Circuit Breakers are included in the battery wiring harness to isolate each series string of batteries. The battery enclosure has 2 connectors, one to connect to the power station and the other to expand storage capacity with a second Battery Bank. It should be located below the WattWorks Power Station
SOLAR POWER GENERATOR
Solar panels must be unshaded and face South for the maximum expected power production. Solar PV panels with the racking system can be mounted to the South side of the building, or to posts or a pole set in concrete, or to a ground mount foundation. The racking is connected to a ground rod with solid copper wire. Solar panels connect to the power station with USE-2 wire and MC-4 connectors. The length of the prefabricated Solar Panel cables can be selected for your site.
Other DC Loads
Other loads, such as a DC Well Pump, DC refrigerator, DC Freezer, DC Ventilation fans or AC 120 volt Inverter can be connected. These require built-in LVDs (Low Voltage Disconnects) or a special LVD added to the WattWorks control panel AUX DC Circuit. Extra unused power is available during the summer to power these loads. Additional PV Panels and Batteries may be required for added loads
Typical DC Lighting System packages
Seasonal hours of Operation will vary with latitude Solar Watt-hours /day = PV Watts x hours of Sun/day